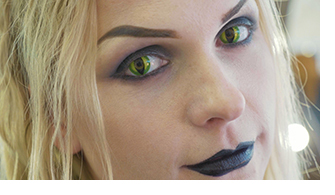 Avoid a Halloween Scare; Donít Buy Decorative Contact Lenses Without a Prescription
Colored contact lenses have become popular year-round for people who want to change the color of their iris. However, every year at Halloween there is a surge of people using colored contact lenses to enhance their costumes and few know about the risks associated with them.
Most people are unaware that decorative lenses require the same level of care and consideration as a standard contact lens. They think that because they can be purchased over-the-counter or online that they are somehow "different". However this is far from the truth.
There have been many reports of people who have suffered eye injuries and infections after purchasing decorative contact lenses. In one case a woman bought a pair of colored contact lenses from a souvenir shop. In less than a few hours she was suffering from extreme pain in both eyes. Because she had not been properly fitted by an eye care professional, the lenses stuck to her eye like a suction cup.
Ultimately the lenses she purchased from the shop caused an infection and left her with a corneal abrasion. She was in severe pain and on medication for four weeks. Her vision loss left her unable to drive for eight weeks and she now lives with a corneal scar, vision damage and a drooping eyelid.
It is illegal to sell any type of contact lens without a prescription in the United States. All contact lenses are medical devices that require a prescription and proper fitting by an eye care professional. Many of the lenses found online or in beauty salons, novelty shops or in pop-up Halloween stores are not FDA approved and are being sold illegally. Retailers that sell contacts without a prescription are breaking the law and could be fined for each violation.
People should not buy colored contact lenses from a retailer who doesn't ask for a prescription. Even with perfect vision, patients need to get an eye exam and a prescription from an eye care professional before they wear any kind of contact lens.
To safely wear costume contact lenses for Halloween or any time of year, follow these guidelines:
See a qualified eye doctor for your eye exams and obtain contact lenses from a professional. The doctors and staff at Eye Care Associates are experts at fitting all types of contact lenses.
Obtain a valid prescription that includes the brand name, lens measurements and expiration date.
Purchase the colored contact lenses only from a retailer who asks for a prescription.
Follow the contact lens care for cleaning and disinfecting directions.
Never share contact lenses with anyone else.
Get follow up exams as directed.
If you should notice redness, swelling, excessive discharge, pain or discomfort from wearing any types of contact lenses, remove the lenses and seek immediate medical attention from an ophthalmologist. Eye infections can become serious very quickly and in some cases the damage is irreversible.