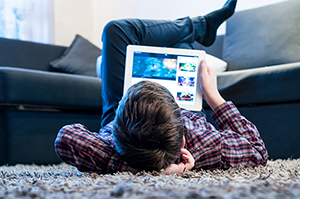 How much screen use is okay for kids?
More and more parents are realizing the benefits of being aware of how much screen time they allow their children. Developmental outcomes, obesity, poor sleep quality and eye development have all been associated with the amount of screen use time per day.
Expert organizations have created guidelines for parents. The World Health Organization (WHO) released new guidelines suggesting no screen time at all for children before age 1, and very limited screen time for children for several years after that.
The American Academy of Pediatrics recommends no digital media use (except video-chatting) for children younger than 18 to 24 months. They also stress that parents focus on educational media when their children do start using screens.
The effects of screen use on children's eyes
Although The American Academy of Ophthalmology does not have specific recommendations for the amount of screen time for children, parents should be aware of the possible effects of screen use on children's eyes, as well as the broader health concerns raised by other groups like the WHO.
Nearsightedness, reading and close work
The number of people developing nearsightedness in the United States has nearly doubled since 1971. In Asia, up to 90 percent of teenagers and adults are nearsighted, a dramatic increase over recent generations.
A 2019 study published in Ophthalmology—the journal of the American Academy of Ophthalmology—offers more evidence that at least part of the worldwide increase in nearsightedness has to do with near work activities. It's not just screens affecting eye development, it's also traditional books and the amount of overall time spent indoors. The study also found that spending time outdoors, especially in early childhood, can slow the progression of nearsightedness.
Digital eye strain symptoms
Digital eye strain isn't a single eye condition like glaucoma or pink eye. It's a name representing the symptoms people experience when spending too long looking at a screen. These include dry eyes, itchy eyes, blurry vision and headaches. These symptoms are temporary and thankfully, no permanent damage is being done to the eyes.
The easiest way to avoid digital eye strain (or eye strain from any extended near-focus task like reading or sewing) is to make sure to blink often and to look up from your screen or close-up work every 20 minutes and focus at least 20 feet away for 20 seconds. This strategy of frequent re-focusing is called the 20-20-20 rule, and lets the eyes relax and reset.
Screen use and sleep disruption
While some of the dangers of blue light may have been overhyped in recent years, screen use too close to bed time can harm sleep quality. Sleep is important enough to childhood development that the World Health Organization has made it a focus in their latest recommendations.
Safety tips and eye comfort
The best way to deal with the possible effects of screens on children's eyes and vision is to help them establish good habits for use. These same tips are good practices for adults and anyone suffering from chronic dry eyes or eye strain.
Follow the 20-20-20 rule: every 20 minutes, look at least 20 feet away for 20 seconds.
Set a timer to remind the child how often to look into the distance.
Alternate reading an eBook with a real book and encourage kids to look up and out the window every other chapter.
After completing a level in a video game, look out the window for 20 seconds.
Pre-mark books with a paperclip every few chapters to remind your child to look up. Use the "bookmark" function for the same effect with eBooks.
Avoid using screens outside or in brightly lit areas. The glare on the screen can create strain.
Adjust the brightness and contrast of the screen so it feels comfortable.
Use good posture when using a screen. Poor posture can contribute to muscle tightness and headaches associated with eye strain.
Encourage your child to hold digital media farther away: 18 to 24 inches is ideal.
Remind them to blink when watching a screen.